"The Christian themed art that I create is not an attempt to depict a likeness, nor an image of anything to be worshiped here on earth, or in heaven above. My art is created to point all people to Jesus Christ who is worthy of all of our honor, glory and praise." Mark Lawrence
Mark Lawrence is an artist from Alpharetta Georgia who is called by God to spread the gospel of Jesus Christ through his Bible verse inspired contemporary Christian abstract paintings.
Early Life
Mark grew up Miami, Florida the oldest of four boys. He was an average student who even at an early age seemed more interested in drawing and doodling, than doing his schoolwork. He attended his first art show in Miami as a young teenager. His passion for art however dimmed as he entered high school and discovered girls and dating.
He attended LaGrange College, a small private liberal arts school in LaGrange Georgia and received a degree in business administration. While in LaGrange, he also met and married his beloved wife. He hit the business world running after graduating and soon started a small mortgage company in the suburbs of Atlanta Georgia where he and his wife had settled.
Mark became a born-again Christian after he went through tough financial times in the early '90s. To help ease his stress, he once again picked up his paintbrushes and began rediscovering his love of painting. It was also during this time that he began his habit of reading and studying the Bible every day seeking God's wisdom and direction for his life.
Artistic Growth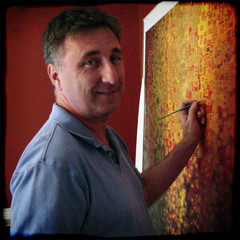 After exploring many different painting styles and techniques, Mark began experimenting with new computer technology to enhance his art. The endless range of creative possibilities that this technique afforded captivated him. He began posting some of his Bible verse inspired art on a few free photo-sharing sites on the internet and the response from viewers was very positive.
Churches also began requesting to use his art for artistic backgrounds and slides during services and events. Mark eventually opened an account with Art.com, a leading internet art print and framing company and his professional art career was launched.
Through the internet Mark's Bible inspired work has since spread and touched many people all over the world. His popular Yahoo Flickr site receives thousands of visits every day. Fans and visitors leave moving messages and comments about how particular verses and paintings have touched their lives.
The Future
Mark is still looking for ways to use art to spread the Good News of Jesus Christ. His paintings proclaim his sense of faith, hope, and security for the future as a Christian. "God has a lot that He wants to say to us, but the worries and concerns of this life just run us over", he states. The Internet is full of people searching for information and answers. He hopes that God will use his art to catch the attention of seekers, so that the Holy Spirit can then speak words of truth and abundant life through the powerful scriptures that inspire each painting.
Mark is one of the most motivated artists that you will ever come across. "Creating and sharing art is something that I just have to do or I'll explode. I am so blessed that God has allowed me to be used in this way," Lawrence says, "I am driven by a mission and a vision to share God's Word with the billions of searching people who need Jesus in their lives." Mark lives in Alpharetta, Georgia with his wife of 31 years, Elena, and their amazing children Josh, Avery and Sam.
So shall my word be that goeth forth out of my mouth: it shall not return unto me void, but it shall accomplish that which I please, and it shall prosper in the thing whereto I sent it.Isaiah 55:11